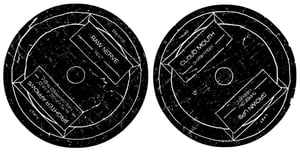 $

5.00
200 copies of the record are being pressed. We won't be selling any more, these copies are for everyone who was involved at the time it was happening.
---
Summer Camp's last show - May 14th 2011
***Everyone paying the $10 door fee at the show will recieve a record! Only purchase this if you DO NOT plan on making it to the show!***
One live track from each band playing, recorded live.
Brighter Arrows - http://brighterarrows.tumblr.com
Raw Nerve - http://rawnervenoise.blogspot.com
Grown Ups - http://myspace.com/ihategrownups
Cloud Mouth - http://mouthintheclouds.blogspot.com
---
7" - Black vinyl, photocopied sleeve, insert booklet, and flyer handbill.
7" + Poster - See above + a 12"x18" one color print of the final show poster printed on 80lb. French paper.
Poster - No one will order just a poster.